A Hallmark of work and progress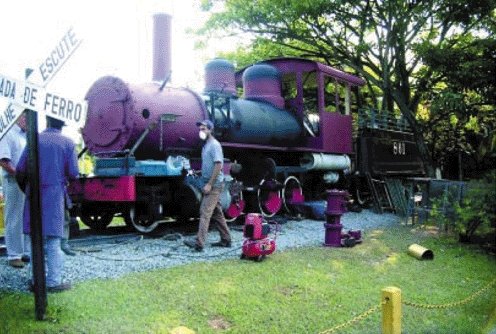 The locomotive still in the original colors in which it arrived at Bradesco in 1965
The symbol of work and progress of the largest private bank in the country is a steam locomotive. It is on display in a garden at the headquarters site of Bradesco, in Cidade de Deus in Osasco, São Paulo. The engine is a Baldwin, built in 1912, serial number 37.717. The bank purchased it in 1965. It came complete, including a tender, and a party was thrown to inaugurate its arrival.
Over the intervening 40 years, Cidade de Deus has changed a lot. The plots on which stood houses forming the villa for the bank's employees have been turned into parking lots.
The reform has still not been concluded but warm can already see the new paint job and the brilliance of the metal work
Yet the old Baldwin remains exactly where it was first parked four decades ago. Its paint faded somewhat but all of its parts have been preserved. It is now undergoing refurbishment — a new paint job and polishing of its metal. The bank decided not to put it in shape to actually run; but it is thinking about placing it under shelter to protect the engine from the action of the weather.
3. The engine still displays its Cia. Paulista prefixe numbe
Before arriving at the Bradesco headquarters, the 2-6-0 Baldwin belonged to Cia. Paulista, where it was converted to the metric gauge and, displaying Prefix 861, hauled passengers and freight. It had the capacity to pull up to 120 tons of freight (between five and six cars) and could hit 35 km per hour.
However, this engine initiated operations in Brazil in 1913. It originally belonged to of Cia. Douradense, running on a 60 cm track and worked the Trabiju-Dourado stretch. In March 1958, it was decommissioned from active duty. It remained out of operation for six years, until negotiations for its acquisition began with Bradesco. Before arriving at Cidade de Deus, underwent reform. A document prepared by Bradesco at the time summarized the importance of the steam engine for the company:
"This locomotive, and respective tender, was acquired by Banco Brasileiro de Descontos S/A from the Paulista de Estradas de Ferro company to be placed at Cidade de Deus, in one of its gardens, as a monument honoring not only the work and socio-economic development it provided but also as homage to Cia. Paulista itself, which used it for this purpose."
The commemorative plaque (LOCOMOTIVE – Symbol of work and progress) on one side of the track makes clear the significance of the engine for Bradesco